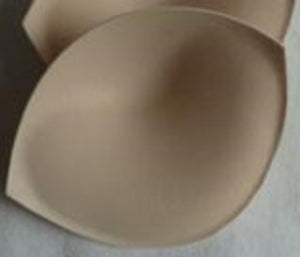 Foam bra inserts are lightweight fillers that can be used inside any bra cups suring post surgery recovery, or for cup boost or just to even out the size of your bust. They are rounded in shape with thicker cookies on the lower half. Each purchase is for a pair of inserts (i.e. two) and comes complete in a drawstring tulle bag.

Please note there are different prices for each size which are adjusted at checkout. Size S is $7.95, Size M is $9.95 and Size L is $11.95. These fillers are re-usable and can be hand washed in mild soapy water.

Brand: Yam Creations

Style: FBF

Colour: Skintone

Sizes: S (slight boost to create a cleavage effect), M (increases bust by half a cup size) or L (increases the bust by a full cup size).